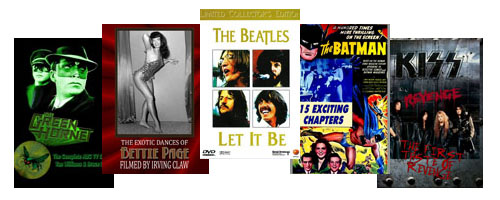 Rare and Hard to Find Movies
Rare Concert DVDs
Sweet N Evil Video offers rare and hard to find movies and concert films. None of these DVDs have ever been commercially released to the public, so now is your chance to add them to your collection. For years you've read about a lot of these films, but have never had the chance to actually see them. Now's your chance. We have compiled a very broad spectrum of genres, from vintage TV shows and serials to classic concerts and Rock N Roll one offs. These are not bootlegs. Many are pro-shot, but unreleased.
Rare Big Boob DVDs
It's All About The Boobs! In our Adult section you will find many long out of print films by some of the biggest girls from the long gone era of the "Freak Tit". Names like Wendy Whoppers, Tiffany Towers and Lisa Lipps, whose cups truly do "runneth over", are just a few of the ladies featured in these long forgotten videos.
Rare Rhiannon & Mistress Rhiannon
Movies, Magazines & Merch
Sweet N Evil Video is home to All Things Rhiannon. Rhiannon… at 5'1″, 105lbs with 48MMMcup boobs; the term "Slim & Stacked" was coined especially for her. Her magazines, movies and merch is available here. On the darker side; she was also known as Fetish Queen Mistress Rhiannon. Her complete line of "Whips & Chains" DVDs are available right here, as well as some of her personal items. NOT FOR THE FAINT OF HEART!
If you're looking for hard to find DVDs, you've come to the right place.
The Beatles at Shea – Original ABC -TV 35MM Broadcast

$

19.95

The Beatles at Shea – Original ABC -TV 35MM Broadcast

$

19.95

35mm BROADCAST MASTER, Color Bars, Arthur Fiedler Introduction, Opening, I'm Down, Murray The K, The Discotheque Dancers, King Curtis Band, Brenda Holloway, Sound Incorporated, Back Stage, Ed Sullivan Intro, Twist and Shout, I Feel Fine, Dizzy Miss Lizzy, Ticket to Ride, Act Naturally, Can't Buy Me Love, Baby's in Black, Hard Day's Night, Help!, I'm Down, ABC Logo – Invaders Promo

Add to cart