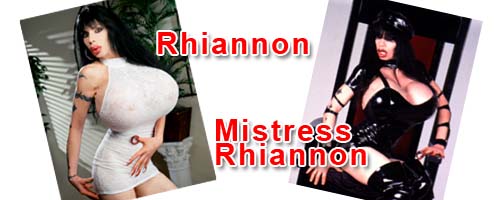 Rhiannon
Rhiannon has long been a staple in the Adult, Big Boob genre. She epitomizes the term "Slim & Stacked, with her 5'1", 105lb smoking hot body, that's topped of with a huge pair of 48MMM cup tits. She has often been compared to a Charms Pop.
She has appeared in hundreds of busty magazines and been featured on the covers of dozens, including; Gent, D-Cup, Busty Beauties, Score, Juggs, to name but a few. With photographer Anton Fury, they created the magazine called Cleavage that ran for 5 issues. At that point, she became the Associate Editor of Gent, Busty Beauties and D-Cup. If it had anything to do with big tits; chances are Rhiannon had her hands on it.
For years she has produced her own line of big tit videos featuring others in the freak tit industry, with names like; Harley Raine, Deena Duos, Minka, Melonie Charm, Echo Valley, Harmony Bliss, Danielle Derek, Summer Cummings and other less freaky "titters"; Exotica, Kylee Nash, Kelly Madison, Brittany Andrews, Puma Swede and Michelle McClaren… just to name a few., with all sorts of down and dirty girl/girl, big boob action.
Mistress Rhiannon
Rhiannon also was a Superstar in the World of Fetish under Mistress Rhiannon. For over 10 years she wrote a column that ran each month in Nugget magazine. Besides her big tit video production, she also produced and performed in an extensive series of fetish videos for Gotham Gold, as well as her own company, Sweet N Evil Video. There were none that were more extreme and sadistic than she. She specialized in emasculating and humiliating the male gender, but was not adverse to inflicting her special form of discipline to females, as well.
No matter what name you know her by; Rhiannon or Mistress Rhiannon, she is truly one… er… two of a kind!